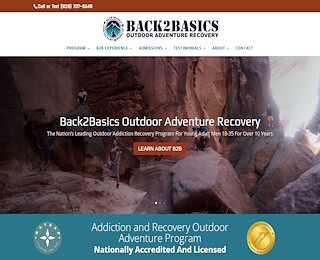 Find the Best Wilderness Addiction Treatment
One of the key factors in overcoming alcohol or drug addiction is to seek specialized help. In that sense, choosing a good rehab treatment is essential to achieve a full life and lasting sobriety.
There are different methodologies and alternatives to help people overcome their drug or alcohol consumption. Among them, adventure drug and alcohol rehab programs are one of the best options to achieve a life in society. You should know more about this option, so you will know why a top wilderness addiction treatment is your ideal choice.
What Is a Wilderness Addiction Treatment?
Wilderness and adventure drug rehabs combine wilderness experiences with addiction treatment therapy techniques. In these programs, participants learn different skills and tools that they will achieve by doing different outdoor activities. These activities include camping, hiking, and some sports such as kayaking or surfing. As they learn and work in groups they get to know themselves and grow emotionally, strengthening their self-esteem and values. This allows them to acquire healthy habits that allow them to lead a life without drugs or alcohol.
Who Is It For?
Adventure treatment for addiction is a type of therapy that can be used by both individuals and families who need help with substance abuse. It is effective at any age, starting at age 12. For example, the top wilderness therapy rehab for men that we offer at Back 2 Basics is intended for males between the ages of 18 and 30. Other ideal candidates for this type of therapy are those who have attended other treatments and have not obtained the expected results.
What is the Treatment Approach?
The objective is to encourage the individual's self-discovery through a variety of experiences in nature. The activities have therapeutic objectives and learning, and people grow emotionally as they overcome each of the challenges they are exposed to. Also, the therapeutic team uses methods for addiction treatment that vary from rehab center to rehab center. For example, at Back 2 Basics we combine outdoor activities with a thorough study of the 12-step program, counseling, and the best traditional and alternative therapies for addiction treatment.
Duration of Treatment
The length of wilderness therapy for addiction treatment depends on the rehab center offering it. Some have 2 or 3-week programs, or the traditional 30-day approach. However, the best alternatives have a longer duration. For example, the Back 2 Basics program lasts 6 months, and our additional Beyond the Basics program lasts about 6 months longer.
What Benefits Do Graduates Obtain?
At the end of the program, people have overcome emotionally, and leave with greater physical and psychological strength. They also take with them a set of knowledge and skills that will help them overcome every challenge in their real lives. They are more responsible and confident and will be able to take control of their new lives in sobriety.
Rely on Back 2 Basics
If you have a problem with alcohol or drug use, we are ready to support you. At Back 2 Basics you'll find the best professionals and an incredible environment to get you sober. Recover while having fun and enjoying the best place in Arizona. Call us and learn more about our treatment program.